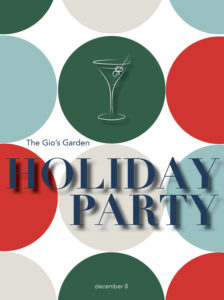 Levy Giving Fund and Big Dreamers United presents:
Gio's Garden Holiday Party - LIVE and WORLD WIDE 
Friday, December 8th, 2023 • Doors at 6:30pm - Show at 8pm
Goodman Community Center Brassworks Building
214 Waubesa St, Madison, WI
Join us for a night to celebrate and raise funds for Gio's Garden. It's a variety show, a live broadcast and an awesome amazing party, all rolled up into one. Light appetizers, desserts and cash bar.  Music, silent auction, surprise special guests, behind-the-scenes at Gio's Garden and so much more!
Our hosts for the 2023
Gio's Garden
Holiday Party - Coanchor of News 3 Now weekdays at 5, 6 and 10, veteran journalist and all around awesome guy,
Eric Franke News3Now
joins us again this year.
We welcome the delightful and uber-talented, Teresa Marie Hardy of The People Brothers Band as cohost this year! Rumor has it, one of these two fine humans will be singing LIVE on stage at the big show! (please let it be Eric, please let it be Eric!) And as always, the man who sets the tone for the evening with his magic on the piano, our Music Director for the show, the incomparable, Mr. Michael Massey.
• Tickets to attend the LIVE show in person - $100 each.
• Stream from HOME with a minimum donation of $50 per household.
TICKETS and Silent Auction(Opening Soon) can be found at gghp23.givesmart.com
                                        ------------------------------------------------------