Gio's Garden has provided over 7,000 hours of care for children with special needs. This is 7,000 hours that families are able to take a break. More then 70 families have reached out to Gio's Garden and received direct care or family resources. This number continues to grow every day.
Gio's Garden subsidizes the cost of the Therapeutic Respite Program and Family Resources for each child because of the generous giving of its supporters. Many of the families that Gio's Garden serves are unable to afford the specialized care that their child needs because of the cost of specialized equipment, therapies, home modifications and other expenses that comes with having a child with special needs.
Donors are able to honor an individual or a group with the purchase of a leaf or tulip.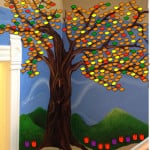 Levels of Support:
$500: Orange Leaf
$1,000: Yellow Leaf
$2,500: Red Leaf
$5,000: Green Leaf
$7,500: Purple Tulip
$10,000: Red Tulip
Your purchase will help Gio's Garden continue to grow and provide services to children throughout Southern Wisconsin.
To purchase a leaf, please download the Donor Tree Brochure or contact Val at val@giosgardenorg or 608-833-4467.