Executive Director
Val Madsen, MS, CTRS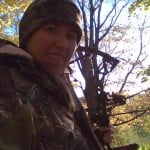 Contact Val at val@giosgarden.org or 608-833-4467 ext. 2
Val is a Certified Therapeutic Recreation Specialist and has a Master's in Therapeutic Recreation from UW – La Crosse, along with a Bachelor's in Athletic Training/ Sports Medicine. She was hired as the first staff in 2012 to get Gio's Garden off the ground. She has grown the respite program from providing 225 hours of care in 2012 to over 11,000 hours of services in 2 locations in 2017.
Prior to Gio's Garden, Val had spent 11 years at Easter Seals Wisconsin working with the Respite Camp program in Wisconsin Dells. Under her leadership, the camp grew to serve over 880 campers each year, all having a variety of special needs. Val has been responsible for recruiting, hiring and training over a 100 volunteers and staff members each year, and has most recently created an online training program for in-home respite providers through the Wisconsin Lifespan Respite Grant. She has presented at numerous conferences and has lead many workshops over the years.
Val was married during the summer of 2014 and spends her free time with her husband and two step-daughters.
Program Director, Art Therapist
Kristin Schmidt, MS, ATR, LPC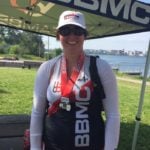 Contact Kristin at kristin@giosgarden.org or 608-833-4467 ext. 4
Kristin graduated with her Master's degree in Art Therapy with a concentration in Counseling from Mount Mary University in December 2012. In January 2013, Kristin was hired at Gio's Garden part-time and in October 2013 she was offered a full-time position as the Program Director. As Program Director, Kristin coordinates schedules for the staff, volunteers and families, provides family support services, supervises full-time and part-time staff, manages volunteers and interns as well as works to develop and implement appropriate therapeutic respite care for every child. Kristin also provides individual Art Therapy services.
During undergraduate and graduate school, Kristin gained experience working with individuals in a variety of areas. She has worked in a behavioral health hospital doing art therapy with children, adolescents and adults with mental health issues. As well as a day treatment program for adolescents where she encouraged pre-teens and teens to use art therapy techniques to express themselves creatively.
In her free time, Kristin spends time with her husband training for half-ironman triathlons, volunteering with various organizations, going to sporting events, cuddling their puppies and visiting their large family.
Family Intake Counselor, Art Therapist
Becky King, MS, ATR, LPC-IT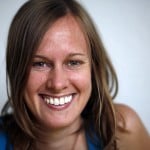 Contact Becky at becky@giosgarden.org or 608-833-4467 ext. 4
Becky, a registered art therapist, welcomes new families to Gio's Garden, facilitates individual and group art therapy sessions and works directly with the children during respite. She joined the Gio's Garden team as an activity specialist in November 2013 and has taken on many roles since then.
She holds a master's degree in art therapy with a concentration in counseling from Mount Mary University.
Originally from Milwaukee, she lives in Sun Prairie with her husband and son. When she's not devoting time to Gio's and her family, she is likely on a run.
Program Assistant
Emily Messiner, CTRS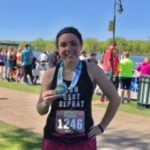 Emily is a Certified Therapeutic Recreation Specialist. She earned her Bachelor of Science and Health degree in Therapeutic Recreation and Psychology from the University of Wisconsin – La Crosse. Emily began working at Gio's as a Therapeutic Care Specialist in September of 2017. In this position, she is able to work with kiddos one on one to help meet their basic needs during respite. She also has the opportunity to facilitate group therapy sessions, complete child assessments, and find "in the moment" recreation opportunities correlating to a child's goals. Emily's favorite part about her position is watching young kiddos explore and discover the world around them through play, regardless of their abilities.
While studying Therapeutic Recreation in La Crosse, Emily gained experience working with children of all abilities while volunteering in the Child Life Department on a hospital pediatric floor, as a "buddy" to children in inclusive programming at the YMCA, at community teddy bear clinics, and at the Milwaukee Child Advocacy Center. She also attended a Sibshop Facilitator Training Conference to help meet the needs of siblings of children with disabilities as well.
In her free time, Emily enjoys "living life as play" by running long distance, spending time with her family, and cuddling with her dachshund, Bella.
Therapeutic Respite Care Specialists
Sarah Dietrich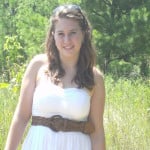 Sarah started out as a volunteer at Gio's Garden in September 2013 and was hired on as staff in November 2013. She graduated from UW-Madison with a degree in Human Development and Family Studies in May 2015. Sarah has always had an interest in working with children and was a swim lesson instructor for over 5 years. She has worked as a nanny and babysitter for a variety of families and was also a nursery coordinator at a local church. Sarah is a current volunteer at Unity Point Heath Meriter hospital in the pediatric therapy unit. She has also volunteered at St. Mary's Hospital in the Steady Stride knee replacement and hip replacement program. Sarah is an aspiring occupational therapist with an emphasis in pediatrics. Outside of work Sarah enjoys spending time with family and friends, swimming, knitting, and traveling.
Kaetlyn Taylor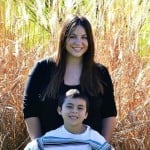 Kaetlyn has lived in the Madison/Middleton area since 2010. She has experience providing respite care to a child with physical disabilities and seizures through Fiscal Assistance of Dane County and Catalyst Home Health. She volunteered with Gio's Garden for a number of hours since April 2013 and was brought on as staff in November 2013. She has completed her clinical at Ingleside Manor in Mount Horeb to get her CNA certifications and passed the state testing in December 2013. Outside of work Kaetlyn enjoys spending time with her family and spending time outdoors when it's warm.
Anna Wilson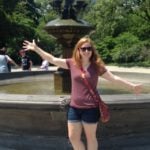 Anna started as a volunteer at Gio's Garden in the Fall of 2015. She excitedly joined the staff in May of 2016 immediately following her graduation from Edgewood College where she received a Studies in Education Degree. Anna has been working as an in-home respite care provider for over 6 years. She also teaches dance to children of all ages and abilities. In addition, she helped initiate a program to incorporate children with special needs into Sunday School at her local church. Anna is currently a volunteer at Communication Innovations where she assists with occupational and speech therapy sessions. Anna is planning to get her Master's Degree in Occupational Therapy to work with children and young adults with special needs. When she is not working Anna likes to spend time outside with family and friends, watch movies, running, and traveling.
Amy Anderson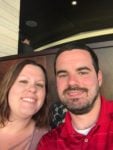 Amy joined the staff April 2017 and works at the Sun Prairie location. She graduated from Upper Iowa University in 2015 with a bachelor's degree in Human Services. Before Gio's Garden Amy was employed for an agency that worked with a variety of children with disabilities. Amy has always enjoyed interacting with kids and loves spending her time at Gio's. In her free time Amy loves to bake, scrap book, and explore new places with her husband and three kids.
Casey Taylor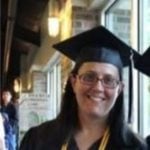 Casey started as a Respite Care Specialist at Gio's Garden in June, 2017 on the weekends. She graduated from Blackhawk Technical College with her Associate's Degree in Early Childhood Education, and will be going to UW-Whitewater for her Bachelor's Degree in Special Education. She is currently working in the Brodhead School District as a Paraprofessional in Special Education. She has worked as a Nanny for the past 8 years and loves the job. When she is not working she likes to spend time with her daughter who is involved in several extra curricular activities.
Volunteers
There are a number of volunteers that might assist throughout the year. Many are PT/OT students (or other related fields) that are looking for hands on experience for classes, some volunteers are retired special education teachers or nurses; and other volunteers are parents or other people who want to give back to the community. All volunteers must go through a training session before they start working with any children.