We are excited to announce The Sharrows will kick-off the fourth annual Rock for Respite, being held August 30, 2013 at the High Noon Saloon in downtown Madison.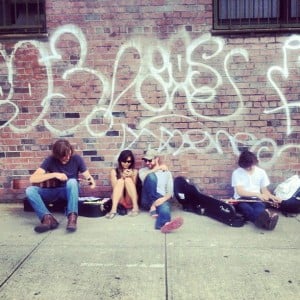 Meet the Sharrows and give them a listen on Labor Day weekend at Rock for Respite!
Tell us a little about who's in the band?
Matthew Smith – Electric guitar (from Naperville, IL)
Jake Bicnase – Drums (from Mazomanie, WI)
Sylvia Janicki – Cello (from Tapei, Taiwan)
Phil Sharrow – Bass (from Eagle River, WI)
Joe Hermanson – Keyboards (from Columbus WI)
We have been playing together a little over a year and we met each other in Madison.
Describe your sound, for those who might not have heard your music yet.
Rock 'n' Roll.
Which musicians have inspired you along the way?
The Allman Brothers, The Beatles, Elements of Cosmos, and Wyatt are some musicians that have recently been inspiring to our band.
What do you love most about the crowds you play for in Madison?
They are our best friends.
Where do you go in Madison when you need inspiration?
Down by the lake!
Why is it important to you to give back and play at Rock for Respite?
We are thankful to offer our music as a way to be a part of an event for a good cause and are so happy to be playing at this year's show!
Learn more about The Sharrows on their website at reverbnation.com/thesharrows and on Facebook at facebook.com/thesharrows.