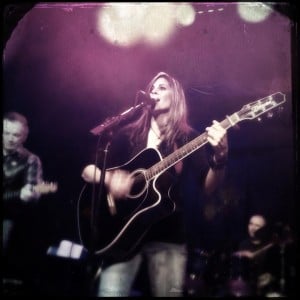 Beth Kille was the first Madison musician to jump on board when she heard Gio's Garden was looking for acts for the fourth annual Rock for Respite, being held August 30, 2013 at the High Noon Saloon in downtown Madison.
Get to know a little more about Beth and come check her out Labor Day weekend!
Is Madison your hometown?
I grew up in Marinette WI but have been in Madison off and on since 1992.
How long has music been a part of your life?
I started playing piano when I was 4 but didn't really continue studying it (I only dabble in it now). I picked up clarinet and saxophone in middle/high school and played in the UW Marching Band when I went to school here. I didn't pick up guitar until I was in grad school. I guess I've always known music would be part of my life, but I don't think I really believed I could make it my livelihood until I moved to Texas in 2008 and started working as a solo artist.
Describe your sound, for those who might not have heard your music yet.
Chick Rock! LOL! I call my music a mix of rock, country, folk, blues and Americana.
Which musicians have inspired you along the way?
Melissa Etheridge, KT Tunstall, The Indigo Girls, Lucinda Williams, Kathleen Edwards, Natalie Merchant and more!
What do you love most about the crowds you play for in Madison?
I just feel like of all the places I've traveled, there is no where I feel more at home and accepted. I think people here are open to such a wide variety of music that they don't care if I play a funk song and then break into a straight up country tune and follow it with a folk ballad. You can't get away with that in Nashville.
Where do you go in Madison when you need inspiration?
Girls Rock Camp! The young campers we work with inspire me like you wouldn't believe. I've spent a fair amount of time in the music business getting the crap kicked out of me as a songwriter for not following the "rules." These kids don't know the "rules" and it doesn't matter. It's just pure creativity flowing from these kids and it's genius.
Craziest tour experience?
After a show in Appleton several years back, I initiated a foot chase down a dark alley in high heel boots after some "kids" that stole my band's gig money. Thank goodness my husband/drummer was an all-state track and cross country runner because he actually CAUGHT these dudes and got our money back. Crazy night!
You do a lot to give back to Madison – including Girls Rock Camp and your work with MAMA (The Madison Area Music Awards), and now Gio's Garden – why is that so important to you?
In my work with GRC and MAMA, I know it sounds dramatic but I believe music saves peoples lives! Having a creative outlet, finding an identity in music, these are the things that keep us grounded and sane. I love that I get to share music-making with people of all ages and help them connect with their creative selves. And you can never really give to anything with out getting something back, in my opinion. I feel very loved and supported in this community.
Anything else you'd want our readers to know about you?
I'm the proud mother of an amazing 2 year old, Gus. He doesn't have any special needs that we have identified, but parenting is still a big job. I can only imagine what the work you do means to the families you are helping through this project and I'm honored to be a part of this fundraiser in support of those families.
Learn more about Beth on her website at bethkille.com.