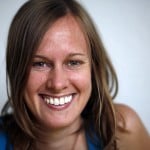 Becky, a registered art therapist, welcomes new families to Gio's Garden, facilitates individual and group art therapy sessions and works directly with the children during respite. She joined the Gio's Garden team as an activity specialist in November 2013 and has taken on many roles since then.
She holds a master's degree in art therapy with a concentration in counseling from Mount Mary University.
Originally from Milwaukee, she lives in Sun Prairie with her husband and son. When she's not devoting time to Gio's and her family, she is likely on a run.